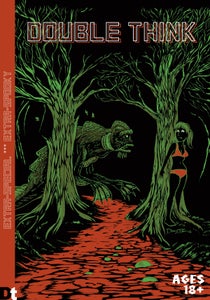 $

10.00
Just in time for the Halloween season DoubleThink: Extra Special Extra Spooky presents eight chilling tales that will make you break out in a cold sweat, send adrenaline coursing through your veins, laugh heartily in an uncontrollable manner, and finally tenderly touch your heart. Dare you make the order that will doubtlessly give you untold sleepless nights? Dare you succumb to this horrendous horror anthology that is most definitely not for kids? Dare you enter the most twisted minds of cartoonists this side of Underworld? Yes, you dare!
Note: This is the physical paper and ink copy of the book, which will ship to your mailbox via the United States Postal Service.
DoubleThink: Extra Special Extra Spooky features the work of Denis St. John, Joe Davidson, Marisa Chapin, Holly Foltz, Ryland Ianelli, and Matt Aucoin.